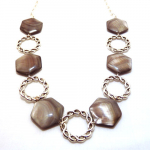 Handmade Jewellery Sets
A selection of handmade jewellery sets made with love by me. Many item's are unique and many are custom made to customer's requirements. These fashion Jewellery sets make a great gift. Each set contains a combination of Necklace, Bracelet and Earrings. I like to make my jewellery sets using a variety of materials including beads, charms and pendants.
There are no products to list in this category.